Date : 20 May 2022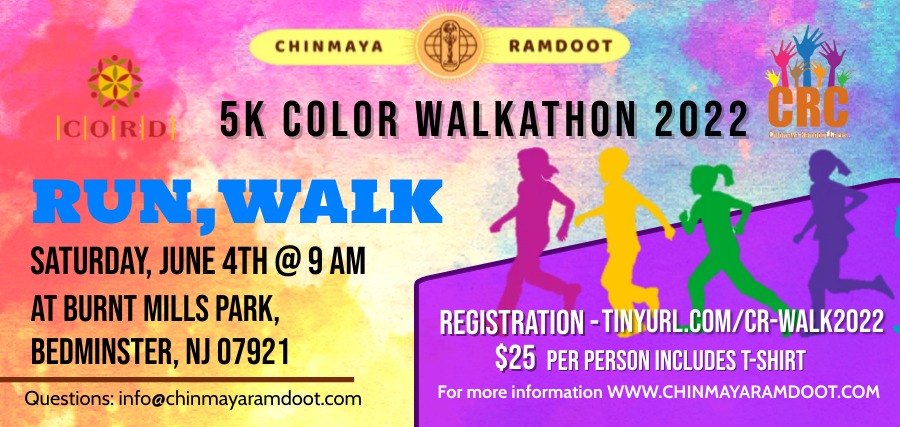 Hari Om!!
🚩ATTENTION! OUR COLOR WALK IS FAST APPROACHING!
🟧🏃🏽‍♀️🟢🏃🏽🟦🏃🏽‍♀️🟣
Our Chinmaya Ramdoot Annual Color Walk is right around the corner on Saturday June 4th, 2022!
❓What Is It?
• Kids and families come together to walk & raise funds through sponsorships supporting amazing community work Globally & Locally!
❓Why Should We Participate?
• All Proceeds go towards supporting Rural Upliftment in India through CORD & Local Community service through CRC (details below)
• Service is a sacred opportunity to repay our debts to the society for all the ways in which we benefit from the service of our community and fellow human beings.
As we serve together we RISE together!
❓HOW Do We Participate?
Its easy! Simply:
• SIGN UP -> FIND SPONSORS & PLEDGE – > WALK!
Details Below. Please help spread the word & share widely!
————-
🔖 REGISTER:
forms.chinmayamission.com/v2/forms/6255723a0435df8bab9961fe/
📋 PLEDGE FORM
tinyurl.com/ColorWPledge
🙏🏽 SEVA SIGNUPS!
www.signupgenius.com/go/70a084ea9ab22a13-chinmaya
–📝EVENT DETAILS: —
📆 Date and Time:
• Saturday, June 4th, 2022
• 9:00am to 12 noon
🏞️ Location:
• Burnt Mills Park
• 1989 Burnt Mills Rd, Bedminster, NJ 07921
❓Questions??
• Email: info@chinmayaramdoot.com
Don't miss the Fun! Register Today!!