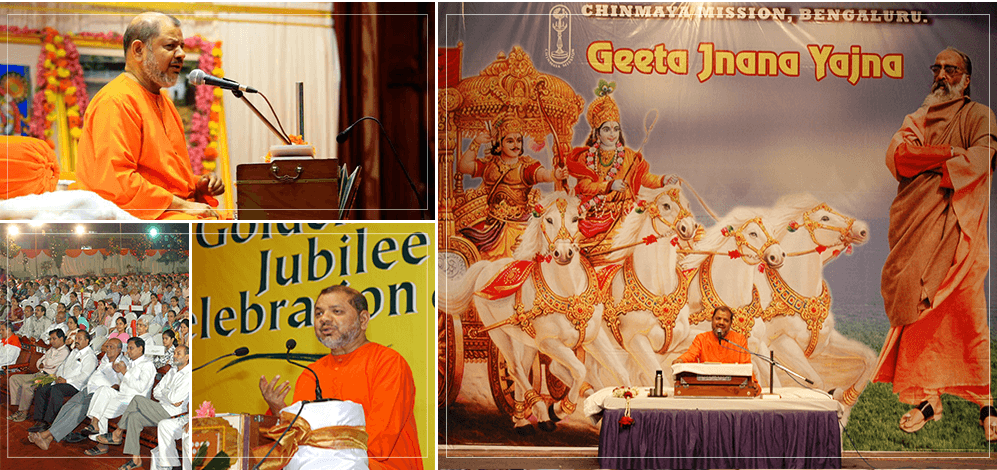 Jnana Yajnas And Spiritual Camps

To light a candle, you need a burning candle. Only an illumined soul can enlighten another soul. - Swami Chinmayananda
Introduction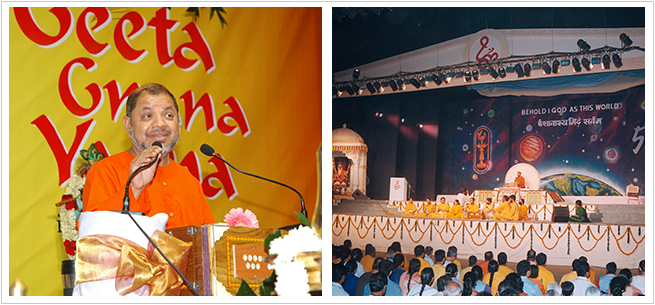 Jnana Yajnas are five to seven days series of public discourses on a Vedantic scripture given by an Acharya of the Chinmaya Mission. Jnana Yajnas are regularly organised by all Chinmaya Mission centres.
Spiritual Camps are week-long retreats organised by Chinmaya Mission in various ashrams and other locations all over the world.
"The evolutionary path is an uphill struggle, in ourselves, with ourselves. Therefore, the seekers of spiritual life must have a few days of intense study and abhyasa [self-discipline] in a Camp consisting of similar hearts under the inspiring guidance of a Teacher, and that, too, in protected surroundings wherein the usual tussles of life will not reach him, nor the teasing temptations distract him. Such a spiritual holiday camp is a retreat."
– Swami Chinmayananda
Throughout the year, Chinmaya Mission centres worldwide host spiritual camps or intensive residential courses for adults, children, youth, or the whole family. Mission devotees also often choose to take a solitary retreat and stay at Mission ashrams.
Spiritual Camps are normally weeklong retreats where the devotee is encouraged to temporarily 'renounce' the world, briefly shelve daily problems and spend time in study, contemplation and introspection. It is an opportunity for total immersion in knowledge and devotion.
The first National Camp was held in Mumbai from April 15 to May 5, 1972. It enabled seekers from various parts of the country to enrol as delegates and live a twenty-four-hour day engrossed in spirituality for a period of two weeks.The first Chinmaya International Spiritual Camp was also held in Mumbai in 1984.
A typical camp starts with an early morning session on guided meditation followed by classes on the scriptures (Upanishads, Bhagavad-gita, or other texts of Vedanta). Throughout the day, members are kept absorbed in spiritually oriented activities: group discussions, satsangs, karma yoga and bhajans, as well as cultural programmes where camp participants offer their diverse talents as an offering to the Lord. In short, for one week or more, people hear, talk, and live Vedanta!
Family camps have special features of fun-filled learning for the children including stories, discussions, quizzes, arts, crafts, creative games and skits which cater to different age groups. Swami Chinmayananda's grand vision envisaged a spiritual retreat for the entire family where young ones from an early age could partake and be inspired by the ancient wisdom of the Vedas.
"My best memory at camp was dancing and acting on stage. I was showing everyone and proving to them that I was proud of my heritage, culture, and history. But more than ever, when I was on stage doing Bharatanatyam, I didn't feel as if I was a dancer. I felt as if I was a gopi singing and dancing Krishna's praises."
– Sushma Sheth, age 12
"The most impressive portion of the camp was the Yuva Kendra class where my teacher, Mrs. Darshana Nanavaty, taught us the most important spiritual fact, "God is everywhere." He is omnipresent, omnipotent, and omniscient. He can be seen, sought, and served by serving the people around us with a pure and simple heart.…"
– Nilay Shah, age 16
Hosting a Chinmaya spiritual camp is a noble and dynamic endeavour filled with teamwork and a cooperative spirit. Centres typically invite Mission Acharyas to conduct the spiritual study classes and to help plan the rest of the day's activities so the mind can have healthy fun and easily become contemplative for study.
"The camps are meant to set you on the path of re-creating yourself. In this, nobody can help you. You have to do it yourself. The camp tries to create a healthy situation wherein you can try to deliver yourself from your own inner weaknesses. The great maternity ward is open. Come in and deliver yourself from your own ugliness. Come out of the camp fresh and beautiful.
Consciously live all these nine days in the Camp in a steady attitude of devotion unto Him, who is the core of every living being. All those who can live in this creative attitude of dedication and divine inspiration can certainly expect solid results, even though this is a session of a mere nine days."
– Swami Chinmayananda
In keeping with Chinmaya Mission traditions and Vedantic principles, Chinmaya camps and retreats are ideal channels to meet the Chinmaya Family and like-minded spiritual aspirants, and to dive into the timeless wisdom of Advaita Vedanta. Of utmost value is the privilege to personally meet and learn from Swami Tejomayananda, Head of Chinmaya Mission Worldwide.