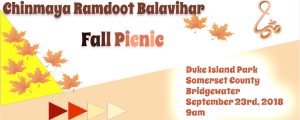 Date : September 23rd, 2018
Place: Pavilion Grove Picnic Area,
Duke Island Park, York Road, Bridgewater, NJ
(Map: https://goo.gl/maps/5WVNWCCTxXw )
Parking Lot A is closest. Overflow in Parking Lot B.
Only people dropping off heavy goods may drive
on the bike path from Parking Lot A to the Pavilion Grove pavilion.
Time: Come at 9:00 am to help set up!
Balavihar starts at  9:30 am, followed by our fall picnic, fun and games
Class teachers please note: Each class should bring a
tarp or picnic mat for their outdoor Balavihar class.
Bring yoga mats for Yoga in the Park.