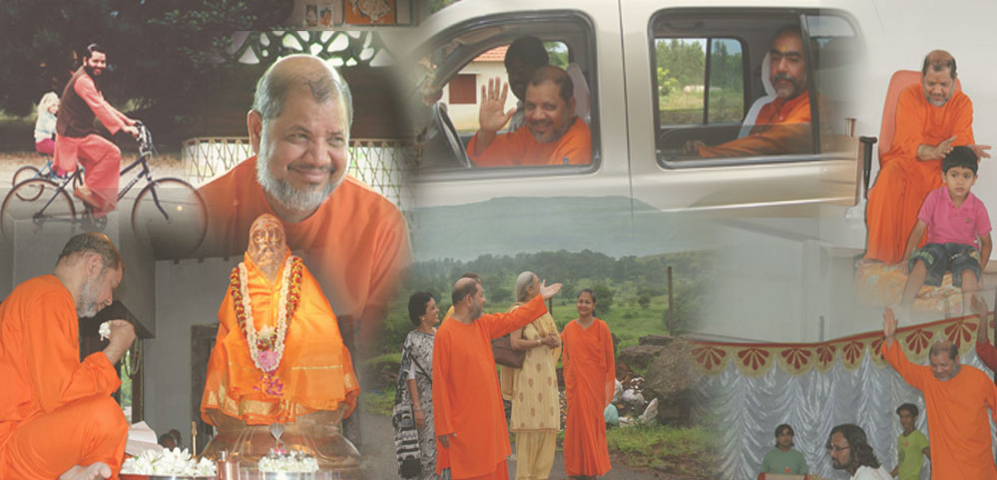 Introduction

Spiritual Journey

Leadership

Works
Swami Tejomayananda is the former Head of Chinmaya Mission Worldwide, a position he held since 1993 after Swami Chinmayananda attained Mahasamadhi. If Swami Chinmayananda served the cause of Vedanta with his service, knowledge and pioneering qualities, Swami Tejomayananda – fondly addressed as Guruji – completed that with his natural attitude of devotion. This is richly and abundantly evident in his talks, his singing, and his demeanour.
But the gentleness of devotion arrived riding on the back of an intense education in physics, going up to a Master's degree. Born, Sudhakar Kaitwade to a Maharashtrian family in Madhya Pradesh, this physicist had a close encounter that changed the velocity, direction and path of his life.
Wit & Wisdom
Where is Guruji Now?
Kolwan, upto 22, MAR
Contact: Mob: (91) 90110 04542
Complete itinerary Click here

More By Guruji
Prarthana Geetam

[wpdm_file id=63]

gurudeva tava mahaniya kripa

[wpdm_file id=17]

Ganapati Aarti

[wpdm_file id=77]

Birthday Song

[wpdm_file id=62]

Graduation Song

[wpdm_file id=65]

New Year Song

[wpdm_file id=64]

Prarthana Geetam in Gurujis Voice

[wpdm_file id=76]

Matrustavan

[wpdm_file id=66]

Dekho dekhore aayere Bhagawan

[wpdm_file id=19]

Ram krishna shiva naam

[wpdm_file id=15]

Jai ganesha

[wpdm_file id=18]

Aaj khele shyam

[wpdm_file id=21]

Shyama sundar ko to ana hi hoga

[wpdm_file id=14]

Adi deva mahadeva he dayanidhe

[wpdm_file id=20]

Jai jai guna sagara

[wpdm_file id=16]

gurudeva tava mahaniya kripa

[wpdm_file id=17]
Speaking Tree
We make commitments Socially…personally …even to the Lord. However…often…we end up: not keeping OUR WORD. breaching OUR COMMITMENT. SOMETIMES we are casual. We say… "I will
definitely
do it.
Read more